Ma'anshan Henglida Machine Blade Company Ltd. is a machine knife manufacturer based in China. We provide a wide range of products, including our metal processing blade, food and packing knife, rubber and plastic processing knife, and paper making and paper processing knife. We also offer a high quality CNC die mold and press brake mold as well as a large series of hard alloy blade products. Our HLD series is made from high-alloy materials and is popular throughout China, while our circular blade, high-precision slitting and dividing machine blade have also received international recognition. Our quality products are commonly used in steel mills, various packaging plants, and also in paper, plastics, metallurgical, chemical, and rubber tire factories.
Currently, our company encompasses an area of over 39,600 square meters and employs more than 300 staff members. In our modern factory buildings, we utilize a wide range of high-tech equipment, such as our numerical control machine and our processing center. In order to assure product quality, our staff also includes senior engineers with more than 30 years of experience in the heat treatment production processing industry. Furthermore, in 2006, our company passed the ISO9001:2000 international quality system certification, further ensuring the high quality of our machine blade products. Because of our efforts, our valued customers can feel secure in choosing our products.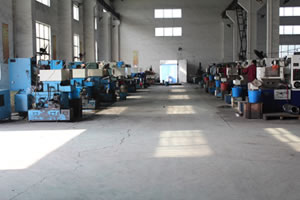 At Henglida, we strictly monitor the entire production process, starting with material selection. In order to meet our customers' various strength and wear resistance needs, our products are constructed from a variety of materials. For example, our metal foil cutting blade is available using 9CrSi, Cr12MoV, W6Mo5CrV2, W18Cr4V, SKD-11, LD, SK5, SK2, SK7, D2, M2, and TCT materials. Henglida food processing knife products are primarily manufactured using 4Cr13, 440B, 7Cr17, SKD11, and other superior stainless materials. Our tube cutting knife products are made with 9CrSi, Cr12Mo1V1, W6MO5Cr4V2 (SKH9), W18Cr4V, hard alloy, and other materials. In addition, we ensure a thickness tolerance of ± 0.0005mm and a certain inner circle tolerance of H3. Following the material selection process, each product undergoes forging, heat treatment, machining, and other processes to ensure the high cutting quality of each blade. We also perform quality inspections of our high-precision products at a constant indoor temperature to ensure the reliability of each machine blade. With excellent equipment, superb technology, strict testing, and an advanced management system, the quality of our machine knife products is top in the industry.
Our company is located in the eastern suburbs of the Bowang Special Economic Zone. This location provides us convenient transportation with nearby 314 Provincial Highway linking industrial areas throughout Jiangsu, Zhejiang, Shanghai, and Anhui. Only 26 kilometers from the Nanjing Lukou International Airport, our products are exported to more than 20 countries and areas around the globe including the United States, Germany, France, the Netherlands, Kingdom of Denmark, Finland, Spain, Egypt, Saudi Arabia, and Thailand. Since our establishment, we have been dedicated to creating our own brands by manufacturing high quality products and continuing to improve and enhance customer satisfaction. With our excellent product quality and after-sales service, we have created a favorable corporate image and have won the appreciation and support of customers around the world.